The very thrilling hunt takes place in the middle of a captivating, majestic mountain landscape. Quite unique landscapes and likeable people will make your hunting trip unforgettable.
Game species Norway
Reindeer
Forelhogna is the area with Norway's largest reindeer trophies. The animals live in more restricted areas than the reindeer of Canada or the USA and therefore the chances of a successful hunt are very high. The hunting season lasts from 20 August to 30 September. The chances of finding a magnificent trophy bull are greatest in the first two weeks. Hunting takes the form of stalking so a good physical constitution is necessary for a successful hunt. A licence is needed for the hunt and the licence for your reindeer bull will be purchased before the hunt. The licence allows you to take one reindeer bull without limit of the trophy size. The hunt is completely dependent on the weather. The hunting party can include up to 6 hunters at the same time.
The hunting season lasts from 20 August to 30 September.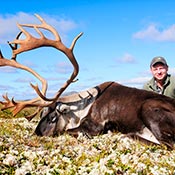 Reindeer
Gallery
Which game species are here, see above. Below you will find the trophy gallery for the wild species that occur.
Country
This Scandinavian natural wonderland borders Sweden to the east and Finland and Russia to the north-east. Norway's geography is characterised by mountain chains and bare plateaus, the "fells". The "land of trolls and fjords" and its capital Oslo is within easy reach. Your accommodation will be in a small mountain village. The nearest airports are Roros and Trondheim.



Take a look at the hunting areas by navigating and zooming the map.
Accommodation
Your accommodation will be in a very beautiful and typically Norwegian country house close to the hunting area. At meal times you will be treated to traditional Norwegian good plain cooking such as elk or reindeer roasts. The unique landscape, the silence and the peace will provide you with the opportunity to switch off from the hustle and bustle of everyday life and relax.